7. Nature of Our Region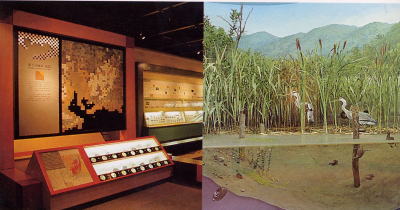 Natural characteristics of the community are presented, which reflect the history of the earth and the evolution of life.
The dioramas of the Shiokawa tidal flat, and of an irrigation pond show a variety of wildlife habitat there. A footprint fossil of a crab found in the neighboring town, or a geographic model of the Median Tectonic Line that run through Japan, would foster visitors' interests in the area. Specimens of fish, shellfish, insects, and mammals introduce the wildlife in the vicinity. Some other displays show natural habitats which tend to be overlooked in daily life. Those are enlarged models of planktons, replicas of plants in marsh and specimens showing the growth of freshwater sponges and freshwater shells.
The last section of the room is intended to give visitors further insights on transformation of nature and natural monuments.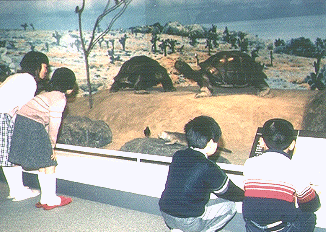 The diorama of the Galapagos Islands with elephant tortoises, iguanas and finches would introduce the world of Charles Darwin and his theory of evolution. Discussion on evolution is presented on panels.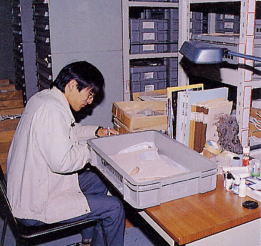 Materials are thoroughly curated in the backyard: cleaned, repaired, preserved, arranged and catalogued in systematic order. Specimens are studied both by curators of TMNH and visiting researchers.